Topics covered in this article:
Bedtime is a time of bonding, adventure and where your children get to travel to a world of make-believe and magic. The bedtime stories you heard as a child always have a significant impact on your life as you reminisce back to the days where you listened to your parent's voice, making every character come alive in your dim-lit bedroom. As the light switched off and it was time for bed, the stories continued in your dreams every night. The next day you'd eagerly await to hear more about your favourite heroes, cheer for the best characters and anticipate the bad guy's next move. When you're younger, bedtime stories aren't just stories – they are secret doors to a whole new world, they are excuses to extend bedtimes and mediums of bonding. Most storybooks also have valuable life lessons in the storyline.
We've compiled a list of the top 15 bedtime stories for kids – Including the characters your toddler needs to meet, places their imagination should visit and stories that need to be told.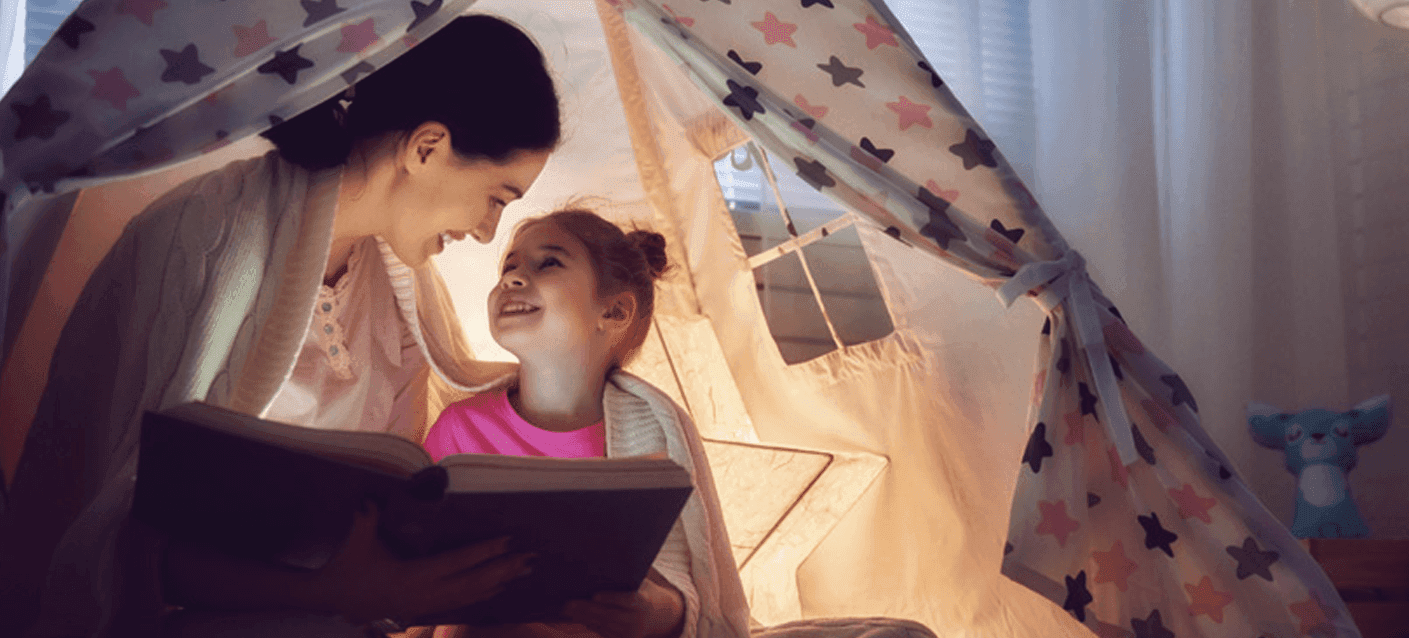 1. Bedtime One for your Kids: I Love You, Stinky Face by Lisa McCourt and Cyd Moore
This cute bedtime story for kids takes place at night when a little one tries to delay their bedtime sneakily. They do so by strategically asking their mum whether she would love them if they were numerous icky and scary things. After every silly hypothetical scenario, the mother replies with what she would do and emphasises that she would obviously still love their stinky faces. "But Mama, but Mama, what if I were a super smelly skunk, and… my name was Stinky Face?" His mother replies that she would bathe him, "and if you still smelled bad, I wouldn't mind, and I would… whisper in your ear, `I love you, Stinky Face.'
Buy 'I love you, Stinky Face' here.
2. Bedtime Two for your Kids: Where the Wild Things Are by Maurice Sendak
Maurice Sendak's book, Where the Wild Things Are, is a magical story of a boy who misbehaves and sails off in a boat to a mystical place where monsters live. Recently made into a movie, the bedtime story for kids is a beautiful combination of adventure, imagination and a happily ever after. This short bedtime story for kids and adults alike is only 338 words and focuses on a young boy named Max. Max misbehaves while playing dress-up in a wolf's costume. He causes such chaos in his house that he is sent to bed without dinner. Later that night, however, Max's room turns into a magical jungle environment where he sails off on a boat and meets 'The Wild Things.'
Buy 'Where the Wild Things Are' here.
3. Bedtime Story Three for your Kids: Goodnight Moon by Margaret Wise Brown and Clement Hurd
This old-time classic bedtime story for kids features a little bunny saying goodnight to all the objects in his room. This story has a calming effect on young ones and is a great bedtime book to help relax them before falling asleep. The text is a rhyming poem and lists little bunny saying goodnight to everything; the moon, the spoon, the brush, the bowl of mush and the cow jumping over the moon.
Buy 'Goodnight Moon' here.
4. Bedtime Story Four for your Kids: Guess How Much I Love You by Sam McBratney and Anita Jeram
This bedtime storybook is known for being filled with sweet illustrations. This bedtime story for kids focuses on the story of a little bunny trying to express how much love he has for his parents. Every time the parent bunny meets the little bunny with an even greater statement of how big their love is. This adorable competition ends in sleep, a perfect way to end a long day of love.
Buy 'Guess How Much I Love You' here.
5. Bedtime Story Five for your Kids: Brown Bear, Brown Bear, What Do You See? By Bill Martin Jr. and Eric Carle
Instantly recognisable by the bold colours and style of award-winning and international bestselling author and illustrator, Eric Carle, 'Brown Bear, Brown Bear' is one of the all-time favourites. Not really following a strict plot, but as rhythmic as poetry, the book asks each animal to describe the animal on the next page. This provides a simple early lesson in words and colours. This process is repeated throughout the book while featuring beautifully illustrated animals.
Buy 'Brown Bear, Brown Bear, What Do You See?' here.
6. Bedtime Story Six for your Kids: Green Eggs and Ham by Dr. Suess
Green Eggs and Ham is a playful, entertaining and popular children's book. Dr. Seuss's fun rhythm is seen throughout the book and is a great beginner's book for if your little one is just learning how to read. This book has made its way through time as a children's classic. Most people can quote the story without ever have reading it because of its popularity and signature Dr. Suess style. Your little one will love to listen to all the crazy and bizarre reasons as to why he would never eat green eggs and ham.
Buy 'Green Eggs and Ham' here.
7. Bedtime Story Seven for your Kids: How Do Dinosaurs Say Goodnight? By Jane Yolen.
Have you ever wondered about how dinosaurs say goodnight? Well, Jane Yolen has, and explains how, in her bedtime story for kids. This book is a definite imagination booster for your little ones. Yolen engages in good and bad bedtime behaviours of 'little dinosaurs' that some readers might be all too familiar with. This book is bound to quickly become a bedtime favourite as it combines colourful and creative illustrations with cute and easy-to-read rhymes. Filled with wonderful detail and humour, children and their parents will love the expressions and antics of the eleven different dinosaur children depicted here, and each species is spelt out somewhere in the young dinosaur's bedroom.
Buy 'How Do Dinosaurs Say Goodnight?' here.
8. Bedtime Story Eight for your Kids: How Will I Ever Sleep in This Bed? By Della Ross Ferreri and Capucine Mazille
In this book, a little boy is (understandably) anxious about moving from his tiny cot to a great big bed. He tries filling it with his stuffed animals, to make it seem less big and empty — but then, he's not sure there'll be enough room for him! Your toddler will be comforted as he watches the book's hero conquer his fear of the "big bed" and snuggle in for a night of peaceful, happy sleep. Capucine Mazille's friendly pictures present a very appealing young hero and give every plush creature its own distinct personality. As a parent, you are going to want to look at this bedtime story to make the transition from crib to 'big bed' go a little smoother.
Buy 'How Will I Ever Sleep in This Bed?' here.
9. Bedtime Story Nine for your Kids: The Going to Bed Book by Sandra Boynto
If you haven't read one of Sandra Boynton's books, it's time you treat yourself. 'The Going to Bed Book' is written in true Boynton fashion. This classic bedtime story is just right for winding down the day as a joyful, silly group of animals 'scrub scrub scrub' in the tub, brush and brush and brush their teeth, and finally rock and rock and rock to sleep.
Buy 'The Going to Bed Book' here.
10. Bedtime Story Ten for your Kids: Good Night Yoga: A Pose-by-Pose Bedtime Story by Miriam Gates
This book is ideal for slightly older children, aged 4-6. This book is both a delightful bedtime story and a work of art with its beautiful illustrations. The cute storyline describes the world peacefully turning from day into night and has the bonus of a guided meditation at the end, which encourages your little one to settle down at the end of the day.
Yoga is great for relaxing and winding down for kids and adults alike, Now, Miriam Gates has combined the benefits of yoga with the bedtime routine, teaching children a simple flow of yoga postures inspired by their favourite characters from nature. Moving from "Sun Breath" to "Cloud Gathering" to "Ladybug & Butterfly" and more. Readers learn techniques for self-soothing, relaxing the body and mind, focusing attention, and other skills that will support a restful sleep and improve overall confidence and well-being.
Buy 'Goodnight Yoga: A Pose-by-Pose Bedtime Story' here.
11. Bedtime Story Eleven for your Kids: Can't You Sleep, Little Bear? By Martin Waddell
In this bedtime story, little bear is afraid of the dark. Big Bear lovingly and patiently tries to show Little Bear that the dark is nothing to be afraid of. He constantly brings Little Bear night lights that get bigger and bigger. However, even when the cave is filled to the brim with lanterns, it still won't do. No matter the size, Little Bear is still afraid of the dark and can't fall asleep. That is until Big Bear brings him the biggest light there is – the moon. This bedtime story is cosy and comforting and perfect for your little one to listen to while snuggling up in bed.
Buy 'Can't You Sleep, Little Bear?' here.
12. Bedtime Story Twelve for your Kids: Kitten's First Full Moon by Kevin Henkes
This acclaimed best seller won the Caldecott Medal and was a New York Times Best Illustrated Book. In this sweet bedtime story, a kitten mistakes the moon for a large bowl of milk. Kitten adventurously and eagerly tries to reach it. This memorable character and her suspenseful adventure are just perfect for even the youngest child. It is Kitten's first full moon, and when she sees it, she thinks it is a bowl of milk in the sky and tries to find her way to it. A concise story, large type, and luminescent pictures play second fiddle to the true star of this book: a brave young kitten who sets out into the world on a quest that leaves her bruised, bewildered, and hungry, but that ultimately leads her back home, where something special is waiting just for her. This perfectly sized board book edition introduces Kitten to a new generation of the youngest readers.
Buy 'Kitten's First Full Moon' here.
13. Bedtime Story Thirteen for your Kids: Touch the Brightest Star by Christie Matheson
This bedtime book is interactive and allows your toddler to participate in the bedtime reading time. It is a great way to involve them and make them feel like they're an important part of the bedtime ritual. Your toddlers press a firefly, blow a breeze, pat a deer, blink their eyes to fill the sky with stars and trace the Big Dipper on the page. The story takes your toddler on a gentle journey and emphasises the fact that bedtime isn't scary at all, it's quite magical in fact, as the story takes you from sunset to sunrise and all the beautiful parts of the night sky in between.
Another bonus is that the book is the perfect size for little hands to hold. Reviews suggest that regardless of how many times you read 'Touch the Brightest Star' to your toddler, no time will be the same. The beautiful watercolour illustrations add to the magical element of the book, along with the soothing rhythm of the book, it's one that deserve a place in your child's library.
Buy 'Touch the Brightest Star' here.
14. Bedtime Story Fourteen for your kids: Twinkle Twinkle Little Star by Jerry Pinkney
Jerry Pinkney has become deservedly famous for his many illustrated picture books, including The Lion and the Mouse, which won the 2010 Caldecott Medal. Twinkle Twinkle sets the classic lullaby to rich, gorgeous paintings of an idealised nighttime world. This book will undoubtedly drive your toddler straight to a peaceful dreamland!
Jerry Pinkney's graceful take on the classic lullaby is now available as a board book – a perfect baby gift. As a curious little chipmunk leaves his nest to greet the twilight, he gazes at the glittering sky above him. He can't help but also notice the sparkling dewdrops on a spider's web, the lights of the fireflies, and the shimmers of moonlight on the water. The book, Twinkle Twinkle is inspired by one of the most popular children's lullabies. This board book edition of Jerry Pinkney's gentle world – where the loving arms of nature embrace us despite darkness or uncertainty, serenely lulls little ones to sleep.
Buy 'Twinkle Twinkle Little Star' here.
15. Bedtime Story Fifteen for your kids: Good Night, Gorilla by Peggy Rathmann
Enter the world of the zoo, as it closes and follows the experience of a clever Gorilla as he escapes from his cage and follows the zookeeper around. As he goes on his sneaky adventure, Mr Gorilla let's all the other animals out too. This hilarious book ends with all the animals following the zookeeper straight back home and into his bed. The only text in the book consists of goodnight greetings, making it the parent's job to narrate the story in their own way. It's great for your toddler as you can tailor the story yourself or give your toddler a shot at describing what he sees and narrating the story himself.
Buy 'Good night, Gorilla' here.
16. Bedtime Story Sixteen for your Kids: Possum Magic by Mem Fox, Julie Vivas
Possum Magic by Mem Fox is a well-known Australian kid favourite. This wonderfully illustrated picture book features two characters; Grandma and Hush. After Hush goes invisible, the two travel through Australia to find magic food that will help Hush. This book will bring it back home for your little one, as you adventure through the pages of Australian scenery.
Buy 'Possum Magic' here.
Bedtime stories are so much more than just stories. During this time, your little one feels safe before getting ready for sleep. It's a time that you and your toddler will cherish forever, and often miss later on in life. Regardless of who the hero in the story is, ultimately to your toddler, you are the hero, and that's your biggest role yet. Embrace this time where they cuddle up and eagerly await what's going to happen on the next page